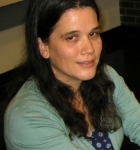 Organization:
RTI International
Professional Title:
Research Statistician
Saki Kinney graduated from UC Berkeley in 1997 with a B.A. in Mathematics. She worked at Environmental Energy Technologies Division at Lawrence Berkeley National Laboratory in Berkeley, CA (not Livermore) for six years.
Saki received her M.S. in Statistics in 2002 from Cal State Hayward, now known as Cal State East Bay. She came to Duke University in 2003 to pursue her graduate program in Statistical Science. She graduated from Duke in December 2007.
After her postdoctoral fellowship ended, she stayed on at NISS as a Research Statistician until she moved to RTI International in November 2015.