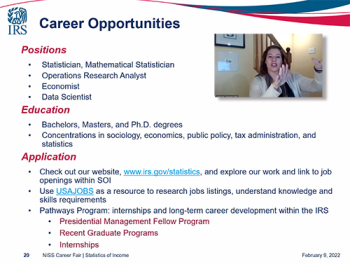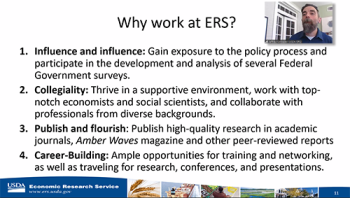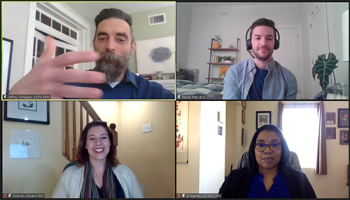 Once again, NISS gathered senior statisticians sharing advice with their extensive experience working in the federal government.  (see Event page)  In addition, these individuals have graciously made it a priority to share their experiences so that others may better understand and be better prepared for working for a federal agency. They described the range of skills of statisticians/data scientists/analysts needed to succeed in their agencies, the career paths, and advice they had for students based on their own experiences. 
Our speakers for the day's session included Jeffrey Gonzalez with the Economic Research Service (ERS), Victoria Bryant with the Internal Revenue Service (IRS). Victoria's colleague at the IRS, Bridgette L. Dinkins, chimed in during the live Q&A session at the event. Daniel Friel, Bureau of Labor Statistics (BLS) was the moderator during this session. 
Danny first introduced Jeffrey Gonzalez, Economic Research Service (ERS). Through Jeffrey's presentation, he discussed some of the projects that ERS works on and all the essential tasks their staff performs as a statistician. A key aspect of working in the government is highlighted again by Jeffrey: collaboration. There are many opportunities to collaborate with external researchers in this line of work. One of the more pressing matters he mentions is that at ERS, they "need new data", and if you end up working for this organization, the work that you do will be critical in keeping data up to date and relevant. 
Why work at ERS? Jeffrey provides great insights to what makes ERS so enjoyable to work for:
"Our staff at ERS are very passionate at what they do, they're very smart and they care about their research." 
- Jeffrey Gonzalez (ERS)
In addition, he notes that "people come from very diverse backgrounds, so it makes it enjoyable to work on the team. 
Near the end of his presentation, Jeffrey mentioned that there are opportunities for training and networking, and sometimes even traveling to different conferences. If you're looking right now, ERS has several openings right now and you can check out USAJobs for these vacancy announcements.
Danny introduced Victoria Bryant next, who is the Acting Associate Director for the Statistics of Income Division under the Research, Applied Analytics, and Statistics Business Unit of the Internal Revenue Service (IRS). Victoria was enthusiastic to share about her division at IRS and share opportunities that IRS has for new employees. IRS is designated as one of the 13 principal statistical agencies in the federal government. During her presentation, Victoria discussed the benefits of work-life balance while working in federal government agencies. There is a nice structure of how you work because for the most part you would be able to adjust your schedule. Like Jeffrey, Victoria also highlighted the aspect of cross-collaboration throughout the work that they do at IRS. 
Bridgette L. Dinkins (IRS) chimed in during the Q&A session explaining and differentiating between types of pathways tracks for recent grads and current graduate students. Her advice she shares is to set up your saved searches on USAJobs. It's helpful to have volunteering experiences and to have dates on your resume to verify year requirements. Look for our pathways program. It was also helpful to know from Bridgette that there is a college credit discount option with the IRS, a transit program/pay for public transportation, and they have an excellent retirement program.
The parting words from our panelists included helpful advice about what they wish they would have known early on in their career.
Victoria urges young professionals to "Keep pushing, don't fall into negative rumors that you hear." as they embark on their journey into the federal government.
Jeffrey's advice is to "take advantage of internship programs, having someone to turn to is really helpful… don't limit yourself to one type of position," many talents can be used in a variety of different areas.
We thank all of our panelists for sharing what it's like to work as a statistician in a government agency, giving advice on how you can prepare yourself for obtaining a position in the federal government and providing us with the kinds of opportunities there are for data scientists in the federal government. This was an excellent discussion and we know that many of our audience had great takeaways after the event.
IRS Opportunities:
IRS Pathways | Interns & Recent Graduates
Research, Applied Analytics, & Statistics (RAAS)
You can find the full recording of this event on our NISS Communications YouTube Channel below.
Recording of this Session
Thursday, February 10, 2022 by Megan Glenn