Virtual meet-ups take advantage of the latest video conferencing technologies.  No travel disruptions to schedule and no finding a place and trying to figure out where to put everybody!
Meet-ups are a wonderful way to gather together a panel of speakers to examine a specific topic of interest to statisticians and researchers.  NISS-Merck meet-ups have given us the opportunity to spend a lunch hour listening in and asking questions of those that are at the forefront of the latest methods and thinking on the challenge that are faced in industry.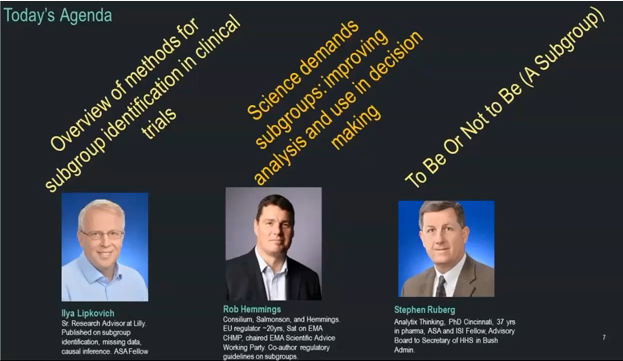 Also, a big shout out goes out to Dan Holder from Merck for being at the forefront of organizing these events!  Thank you Dan!
The latest NISS-Merck virtual meet-up took place in September, 2019 and focused on the topic of Subgroup Analysis.  Ilya Lipkovich, (Lily), Rob Hemmings, (Consilium Salmonson and Hemmings) and Stephen Ruberg, (Analytix Thinking) all provided their own perspectives regarding their own experiences.  The goal of the meetup was to attempt to frame some of the important issues around the use of subgroup analysis in drug development and provide consideration from both a practitioner's and regulator's prospective. As with all NISS-Merck meet-ups, it was very well attended and the conversation was valued by all.
NISS-Merck meet-ups have taken place since 2017.  Here is a chronological listing of the meetings that have taken place thus far.  Weren't able to attend?  No problem!  Follow the links to the web pages where recordings and speaker's slides are posted.
September 12, 2017 - "Multiple Endpoints in Clinical Trials"
January 23, 2018 - "Estimands and Sensitivity Analysis in Clinical Trials"
April 25, 2018 - "Applications of Machine Learning in the Pharmaceutical Industry"
October 4, 2018 - "Real World Data and its Applications in the Pharmaceutical Industry"
January 22, 2019 - "Statistical Challenges in Immuno-Oncology"
April 1, 2019 - "Applications of Real World Data"
Septermber 10, 2019 - "Subgroup Analysis"
And, of course! There is another meet-up on the way!  As always, go to the NISS webpage for the event and register so that you have a 'front row seat'!  Register today!
Vladimir Dragalin, (Janssen)
"Thoughts on ICH E20 EWG on Adaptive Clinical Trials"
QiQi Deng, (Boehringer-Ingelheim)
"Two stage adaptive design in dose ranging studies and the alternatives"
Scott Berry, (Berry Consultants)
 "Master protocols & platform trials"
Friday, November 15, 2019 by Glenn Johnson